gakuen heaven 2 faq & creator's comments
from the official materials collection CD
This is some nice extra information about the game, answers from the characters themselves (haha), and some comments from the artists and writers. :3
questions for the Spray staff
Q: As the second game in the series, what was the first setting you thought of? And what things did you think of that you wanted to try?
A: Making the second game, the first thing we did, in order to make a change from the ordinary main character in the previous game, we set the main character as the student council president and called him the Ace.
In the previous game, there were the King and Queen, so apart from those, this time there are the Ace and Joker. That's when it was decided to have the student council fall on hard times.
Also, we made the library room a library building, we wanted to add to the book collection!! We thought Suzubishi ought to spend money on more than sports facilities! And we're happy to have that desire granted. If there's a next time, we want to make a music hall. Not an auditorium.
Q: The main character of the previous game, Ito Keita, appears as a teacher. Tell us about this.
A: Since it's a title with the numbering of "2", at the stage when it was decided to have an all new game with all new characters, we decided to have a single character from the previous game, Keita, be a teacher. Since it's thanks to Keita that this series has been kept buoyed up until now.
Q: Not talking about anything grand, but if there's something you're a bit obsessed about, you can quietly assert it here.
A: We wondered how to suspend Kuya's sword over his jacket, and tried various designs. The belt and the scabbard are leather.
The sub-characters in Yagami's route (Omi, Yonezawa, Tajima) have last names that all share a feature. (tr note: types of Japanese beef)
Q: Was anything cut due to circumstances?
A: Team "Raw Meat" in the Gourmand Cup became no good due to legal changes. It was a real shame.
Q: Do any of the graduates show up at the clubs and such?
A: In the archery club, it seems the graduate Shinomiya shows up about once a month to do coaching. Because of that, it's perfect for beginners starting archery, even if they're not very strong. It has become a club with a stable popularity every year.
Naruse too, after graduating, does special coaching in the off season, and sometimes directs the practice of the tennis club.
Q: Who is the best at sewing?
A: Yagami
Q: Who likes the hottest bath?
A: Chiba
Q: Who is the biggest slob?
A: Kasahara
Q: Whose hair gets long the fastest?
A: Minase
Q: Who is the most wasteful?
A: Joker
Q: Who is the best at drawing?
A: Sonoda
Q: Who wakes up the most easily?
A: Sagimori
Q: Who has the wildest imagination?
A: Takato
Q: These members have played baseball, but what positions would they be if they played soccer?
A: Goalkeeper: Takato; Defenders: Chiba, Minase, Kasahara, Sakaki; Midfielders: Asahina, Sonoda, Sagimori, Ito; Forwards: Joker, Yagami
questions for everyone at BL School
Q: What dish do you recommend at the cafeteria?
Asahina: Everything Sonoda-san makes is delicious, but I guess I recommend the A set. Since you can eat a variety of specials for one meal ticket.
Sagimori: I recommend the Lobster Thermidor. Sonoda-kun's bechamel sauce is the best!
Takato: The plain udon is surprisingly not bad.
Joker: The borscht Eiji makes is the best. Huh, it's not a standard dish?
Sonoda: The F set! It's the one with the highest profit margin among the set dishes and the one which lets me exercise my skill with French cuisine the most. Of course, I recommend the special dishes, but those are very limited.
Chiba: Something like crab cakes.
Minase: Yogurt sherbet. It's refreshing and delicious.
Kasahara: The A or B set. It helps since it's annoying to choose from the dishes that change every day.
Yagami: All meats. I don't remember the names of each of the dishes, but they're delicious.
~~~
Q: Which is your favorite bun from the school store?
Asahina: The yakisoba bun! I rarely buy any others, but I also like the special sandwich.
Sagimori: The jam sandwich! It's a sandwich full of strawberry jam between slices of soft sandwich bread, but for some reason it's not very popular and there are always leftovers. Even though it's delicious!
Takato: Perhaps the hamburger steak sandwich. That ketchup flavor is indescribably good.
Joker: I've never eaten any.
Sonoda: If there was only some way to get the customers who go to the school store into the cafeteria....
Chiba: Croquette bun.
Minase: Soy milk bagels. They're chewy.
Kasahara: Choosing is annoying, so I just randomly buy whatever is left. So it's mostly anpan.
Yagami: The katsu sandwich.
The school store sandwich price list:
- anpan 90 yen
- custard brioche 90 yen
- chocolate horn 90 yen
- jam sandwich 90 yen
- melon bread 100 yen
- curry bun 100 yen
- three color bun 110 yen (filled with custard, chocolate custard, and red bean paste)
- yakisoba bun 140 yen
- naporitan bun 140 yen
- pizza bun 140 yen
- croquette bun 160 yen
- hot dog 160 yen
- hamburger steak sandwich 160 yen
- katsu sandwich 180 yen
- egg sandwich 180 yen
- mixed sandwich 230 yen (ham and egg salad with lettuce and tomato)
- grilled chicken sandwich 250 yen
- club sandwich 250 yen
- special sandwich 320 yen (naporitan spaghetti, hamburger steak, tonkatsu, raclette cheese)
~~~
Q: How is Professor Sakaki's class?
Asahina: He's harsh, but if I do my best, I feel like I can get better grades.
Sagimori: It's good since it's easy to understand, isn't it? And I'm grateful that we're allowed to do what we want as long as we listen properly and get good grades on tests. I haven't gotten any warnings since the time when I was spotted and corrected for doing a handstand on the chair. He's a very generous teacher!
Takato: It's a class geared towards entrance exams and places unusual importance on efficiency.
Joker: It's interesting. I really like things like those malicious tests. It wouldn't be easy to get him to go along, but it would be fun to play a game with the professor.
Sonoda: I absolutely feel like he puts questions that are hard just for me.
Chiba: I'm not taking it.
Minase: I've never taken his class, but he has a reputation for improving test scores. He's often angry and throwing chalk at Reo-Reo, but maybe he's a surprisingly mischievous person?
Kasahara: It's nasty. It's really nasty. If I goof off he's too annoying. Really annoying.
Yagami: Don't throw the chalk. Next time, I'm absolutely dodging it!
~~~
Q: How is Professor Ito's class?
Asahina: I like it! If I ask about something I don't understand, he answers it very enthusiastically. Somehow, he's so enthusisastic that I feel guilty.
Sagimori: It seems like it would be kind of fun! But I'm not taking it.
Takato: Unfortunately, I'm not taking it in my third year of classes, but his reputation among the underclassmen doesn't seem bad.
Joker: I haven't taken his class, but he seems like a cute professor worth teasing. I want to try making him play an endless match with Ace-kun.
Sonoda: He's the very picture of a professor who seems popular with the students.
Chiba: I'll go to his make-up classes when the inter-high competition is over.
Minase: It seems like he prepares a lot of maps and diagrams. It's a bit interesting that I can somehow tell if the class went well or not by his back as he leaves the classroom after class is over.
Kasahara: (missing answer)
Yagami: He's doing okay for a new teacher. In the beginning, when I was late, he was annoying so I glared at him, but he didn't flinch.
~~~
Q: What is your honest opinion of Dora-chan's curry?
Asahina: It's delicious, but I'm just a little bit tired of it... I guess... hahaha.
Sagimori: I think it's wonderful and delicious! I love it.
Takato: I think I'd like him to go back to his original duty of specializing in developing new drugs in the Bell Liberty research lab.
Joker: I like that he makes things spicy the way I like it. Since I don't like that Eiji makes fun of my sense of taste.
Sonoda: His knowledge of spices is just as I'd expect. Just in Indian cuisine, I acknowledge his superiority.
Chiba: I want to eat normal curry too.
Minase: It's delicious. But since my mouth burns easily, it takes a long time until it's cool. I wonder if there are any cold curries in India?
Kasahara: Delicious things are delicious.
Yagami: There's not enough meat. Where's the chunks of meat!?
~~~
Q: What is your favorite sport?
Asahina: Basketball, I guess. I was in the basketball club in middle school. At home, we often watched the NBA, but come to think of it, I haven't seen it much since moving into the dorm.
Sagimori: Fencing! I also like scuba diving.
Takato: I often watch soccer. Frequently, when I'm working late at night, I listen to the foreign soccer broadcasts.
Joker: Sport hunting. When I go back to Russia, I go hunting a lot.
Sonoda: If it's a ball game, I guess soccer. I don't want to injure my hands.
Chiba: Kendo.
Minase: After all, diving, I guess. Gymnastics and dance are pretty too, so I like them.
Kasahara: Well, track, more or less.
Yagami: I'm not really interested, and it takes time so I don't watch. Sumo and stuff is ok, isn't it? Although I'd pass on doing it.
~~~
Q: What is your favorite color?
Asahina: Umm... blue!
Sagimori: I like bright colors. Like canary yellow, cobalt blue, and carmine red!
Takato: The color of ink.
Joker: White. The silvery white of a snowy landscape is beautiful.
Sonoda: I like combinations of vivid colors. They stimulate the appetite.
Chiba: None especially.
Minase: The color of the track jacket I always wear. I thought it was a nice color, so I chose it.
Kasahara: I want to be transparent.
Yagami: Black. For men, it has to be black.
~~~
Q: Where do you start when bathing?
Asahina: My head I guess? When I get into the bath, first I take a shower starting from my head.
Sagimori: It depends how I'm feeling that day.
Takato: The tip of my right leg.
Joker: My face. The eyepatch gets really stuffy.
Sonoda: The fingertips. Because the smell of food soaks in.
Chiba: I've never thought about it, but I feel like I start washing from my hands.
Minase: My hair. Since the shampoo and conditioner run down my back.
Kasahara: I haven't thought about it. Isn't it all over?
Yagami: My hands.
~~~
Q: What present would you like right now?
Asahina: Anything delicious!
Sagimori: I want a new smartphone.
Takato: An easy to use bag.
Joker: A horse.
Sonoda: Escoffier's Le Guide Culinaire in the original French.
Chiba: Nothing especially.
Minase: A toy for Maro. I haven't been able to play with him recently, so I've been looking for a new toy. There don't seem to be any.
Kasahara: Coupons so that someone else will do what I don't want to do.
Yagami: I don't need a present. What I want is time and a body that can function without sleep.
~~~
Q: Have you ever had a pet?
Asahina: My house is a bakery, so pets are forbidden.
Sagimori: When I was little I had a maine coon. Her name was Abby. She was very attached to my sister who is six years older than me. She was smart, caring, gentle and really a wonderful cat. I was really sad when she became a star and I thought I wanted to be buried with her.
Takato: At home, my grandfather liked and raised various types of goldfish, but I never really wanted a personal pet.
Joker: At my grandfather's house, he raised Samoyeds and Borzois and Karelian Bear Dogs for hunting.
Sonoda: As someone who kills living things for daily ingredients, it would be hard to have a pet. The hygiene aspect is also a problem.
Chiba: I had a pet crayfish.
Minase: Maro is my first. But, I guess I never really thought about having a pet.
Kasahara: I've never had one.
Yagami: Well. There were always hungry guys next door, so it felt enough like raising animals.
~~~
Q: Your first overnight trip with your lover. If you could go anywhere, what kind of place would it be?
Sagimori: Going somewhere by train would be nice. He'd absolutely want to eat the boxed lunch, so we would sit next to each other by the window and eat while enjoying the scenery. It would be nice if it was spring and the cherry blossoms were beautiful, and if it was summer, I'd want to go to the ocean. In fall, I'd want to enjoy the autumn colors, and in winter, it would definitely be when the snow was falling. And then a hot spring! Can't leave that out. I want to try walking around town in a yukata! And then I want to try target shooting! Which means, after all, we'd stay at an inn. If I want to do that, I have to find an inn with delicious food.... Alright, later I'll try making a quick schedule.
Takato: A beach with few people. Well, even if there are people, as long as it's just the two of us and we're not disturbed, it could be anywhere.
Joker: Come to my home in Russia. Since it's pointlessly big and spacious, it's more comfortable staying there than at a hotel.
Sonoda: Karuizawa, maybe. There is a hotel there with a chef whose food I want to try.
Chiba: Okinawa.
Minase: A hot spring. It would be nice if Maro could go in too. But, alone with a lover? In that case, it would be best for the room to be private....
Kasahara: I've never been on a trip, so I don't really know what would be best. Anyway, maybe it would be nice to go to Tokyo or Hiroshima?
Yagami: That's too gaudy. A trip with him...? You've got to be joking!
~~~
Q: What is your favorite part of your lover's body?
Sagimori: I like every part. When I consider that it's a part of my lover, pimples and scabs, they're all cute.
Takato: The dimples on the back of his hips are sexy and I like them.
Joker: His face. It's nice how his expressions roll across his face like a dog. But my favorite is his luck.
Sonoda: That tongue and stomach are awesome. I love them. I always want to satisfy him with my best cooking.
Chiba: He has nice eyes.
Minase: His warm hands.
Kasahara: His lap or thighs. When I use them as a pillow to sleep, it's really comfortable.
Yagami: His voice. But if it's a body part, his strong throat.
creator comments and illustrations
Higuri You (illustrations)

Enjoy the game.
~~~
Aruya (SD illustrations)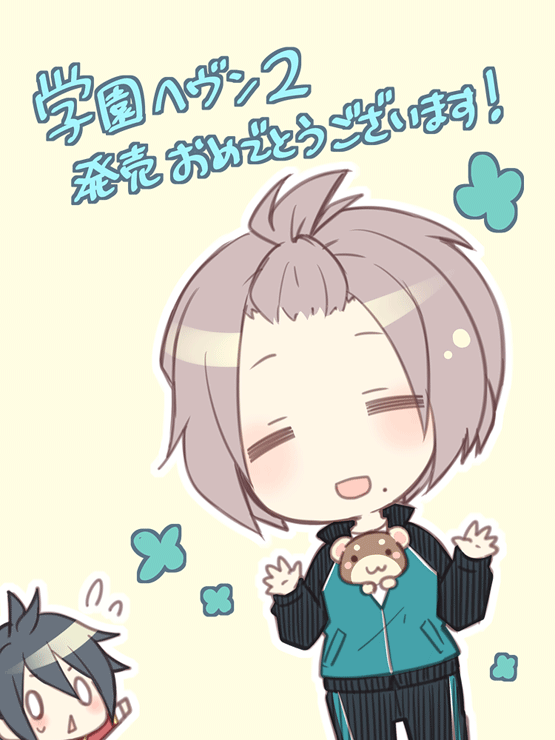 Congratulations on the release of Gakuen Heaven 2!
~~~
TAMAMI (main scenario writer)
Hello. TAMAMI here.
I was put in charge of the scenarios this time, for the continuation of the previous game "Gakuen Heaven ~ Boy's Love Scramble!". I'm grateful to Spray-sama for giving me this opportunity!
In this game too, as with the previous one, unique and charming characters are all present.
Every time a plot for a new character arrived, I was excited about how it would develop this time, and was allowed to write the scenario.
Only, unlike the previous game, this time the scenarios and art are being created at the same time, so there are some event CGs even I haven't seen.
Since the sprites used in game are the final work begun after the scenario has been finshed, I hadn't seen anything but the basic facial looks.
I thought, no, I wish Spray-san had sent the images. But, since finishing the scenarios, I think I want to enjoy Higuri-sensei's beautiful art, colored and finished as CGs in the actual game.
Which means, since the game is finally done, I'm also really looking forward to what kind of faces the boys all make, smiling, and getting angry.
I'll be very happy if everyone enjoys this game too.
To conclude, I truly thank you for picking up "Gakuen Heaven 2 ~ Double Scramble!" this time!!
~~~
Tsushimi Bunta (scenario writer)
Pleased to meet you. I'm Tsushimi Bunta who participated on the Sonoda route.
I'm very honored that I could participate in the creation of a game with such a history.
I feel a deep affection for the game and for everyone's uncompromising and careful work; it was time well spent.
I learned a whole lot, that I got the sense I could only learn here, from the character creation, how to reveal the characters, how to use their charms, to everything.
There was a perfect combination, beginning with the visuals, the items involved with the characters, their position in regards to the situation, to the tone of voice, and at the same time, a feeling that nothing was left out. It was really amazing, I was astonished.
I'll be happy if I was at least a little help in not losing the game's charm.