gakuen heaven 2 demo
localized in English! :D
It's here! This is the unofficial Gakuen Heaven 2 English demo patch, featuring translations and graphical edits by Welcome to Heaven (that's us!) and programming by Danmei. This patch will update the demo/trial version of Gakuen Heaven 2 with English text and graphics.
Only a few buttons and settings are still in Japanese (I got really tired of remaking and slicing fiddly image bits) but 99% of everything has been completely localized for your BL gaming pleasure. :D
about gh2
On the surface, Gakuen Heaven 2 is the story of Yuki growing into his natural leadership abilities and working hard to protect the school from the corrupt board of directors. As you dig into each character's story, the game also becomes Yuki's quest to save his friends from their demons… and maybe even fall in love along the way. :D
The Gakuen Heaven 2 demo allows you to play May 12-14, the first three days of the common route - Yuki's first day of school and welcome party, a second day with student council chores and exploring the school, and a third day for the first 'date' type scenes in the game. This third day is when you'll start getting the first major hints of each character's backstory.
It's a HUGE amount of text, about 70,000 words. If you set the voice to autoplay and fully explore all the branches, it's easily 6+ hours of play time.
sample screenshots!
Click to see them at full size!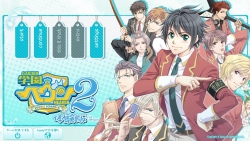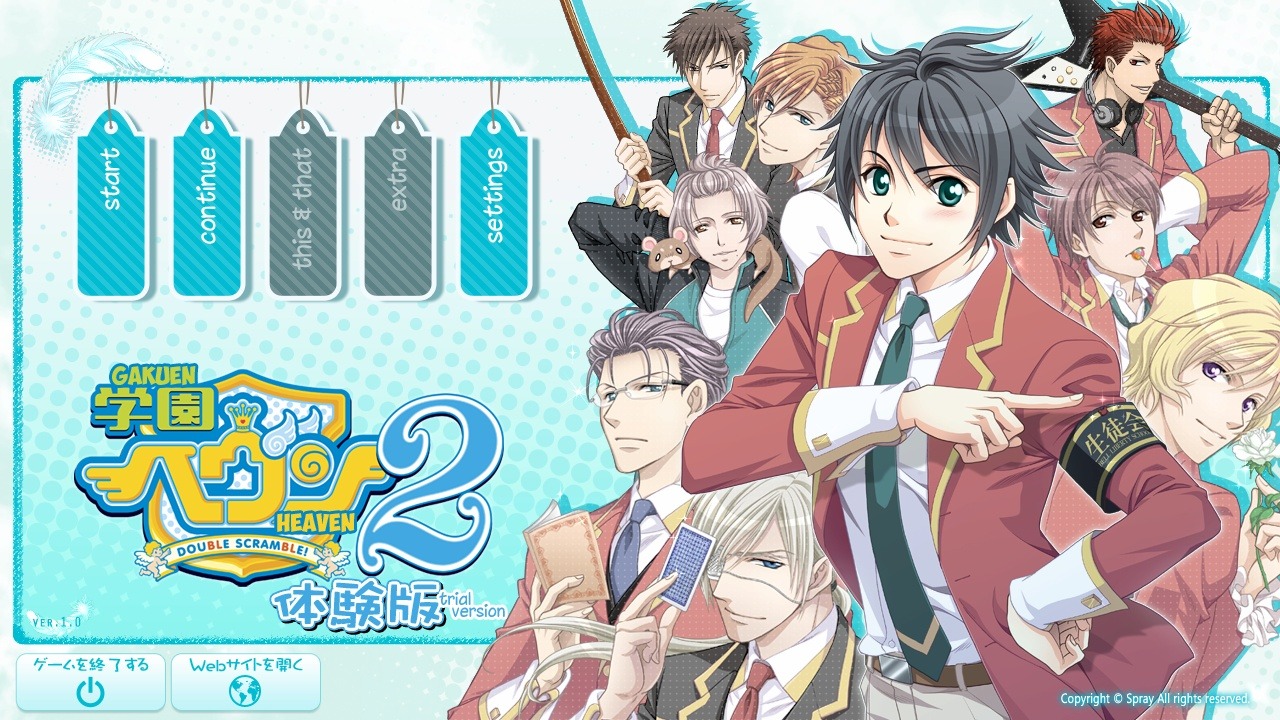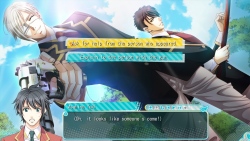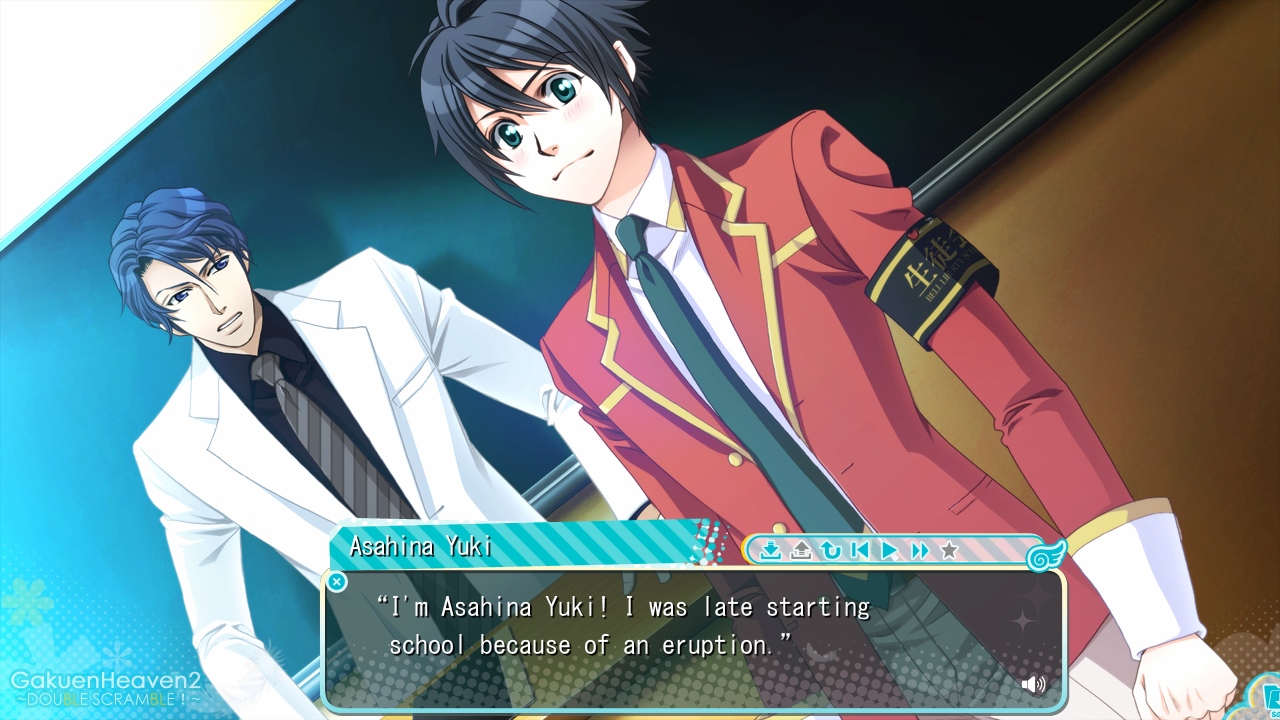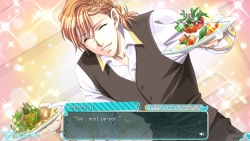 PS: More screenshots available HERE and HERE!
download
This download is hosted directly by us. No shady file-sharing sites here!
Download the Gakuen Heaven 2 demo!
download heaven2_trial_eng_patch.zip (9MB)
If you already have the GH2 demo installed, adding the patch is a snap!
- Download the patch.
- Unzip the patch into the GH2 demo folder, overwriting all files when prompted.
- Run the demo as usual and enjoy!
If you don't have the demo yet or need more details, check out the section below for a step-by-step installation guide that will get you going in no time!
detailed installation guide
If you need help getting started, follow these simple steps. Please note that your computer must be able to run Japanese programs in order for the demo to work.
These instructions are for Windows computers only.
If you're using another OS, you'll probably have to use a Windows emulator, as GH2 is a Win-only game. Sorry, we cannot provide any support for anyone who is not using Windows. :(
1. Set system locale to Japanese.
Control Panel > Region and Language > Administrative > Change system locale > Select Japanese


Click OK. Restart your computer.
2. Download the trial version of GH2 from the official site:
http://gakuenheaven.jp/gh2/special.html (copy/paste this URL)


** Use either blue button. The second is a mirror in case the first is too slow.
3. Download English patch: heaven2_trial_eng_patch.zip
4. Extract heaven2_trial.zip and heaven2_trial_eng_patch.zip.
5. Navigate to the "GameData" folder in the GH2 trial version.
heaven2_trial>StartData>GameData

6. Install scripts and helper programs: Copy Scene.pck, gameexe.dat, AlphaROMdiE.exe, NoRegionLoader.exe from the heaven2_trial_eng_patch folder to the GameData folder. Replace/overwrite the original files when prompted.
7. Install graphics: Copy all files from heaven2_trial_eng_patch>g00 to heaven2_trial>StartData>GameData>g00. Replace/overwrite the original files when prompted.
At this point, choose which helper program you want to use to get around the region lock on the game. Danmei recommends AlphaROMdiE, and we use NoRegionLoader. Both work fine so choose whichever one seems easiest to you. :)
8a. If you want to use AlphaROMdiE:
- Double click on AlphaROMdiE.exe to run the program.
- Drag SiglusEngine.exe (from the GH2 trial folder) to the blue menu.


- Some menus will pop up. Just click OK/Yes to everything. The game will automatically open now!
- For future play sessions, use the new SiglusEngine.exe shortcut that was created in this step.

8b. If you want to use NoRegionLoader:
- Double click on NoRegionLoader.exe to run the program.
- Navigate to the folder that contains SiglusEngine.exe and double click on it.
- When asked to create a log file, click no.
- For future play sessions, always click on NoRegionLoader.exe. It will remember the location of SiglusEngine.exe from last time.
9. Once the game is running, change the font to make the text more readable. This only needs to be done once.
- Click "settings" on the main menu.
- Click the middle button at the top of the window to access text options:


- Choose the middle font and turn on text shadows:


- Right click to return to the main menu and enjoy the game! :D