mvp card game
official GH trading card game
Back in the day, trading cards were all the rage in Japan, and there were many sets for BL games. Gakuen Heaven was no exception, with four card sets released over the course of a few years. The fourth and final set was a 'Special Edition' where the foil cards were the usual decorative illustrations, but the non-foil cards were a complete trading card game!
The original game is in Japanese, of course, but we've created a translated English print-and-play version for your gaming enjoyment! The text has been carefully edited onto scans of the original cards for the most authentic look possible.
Samples (click to enlarge):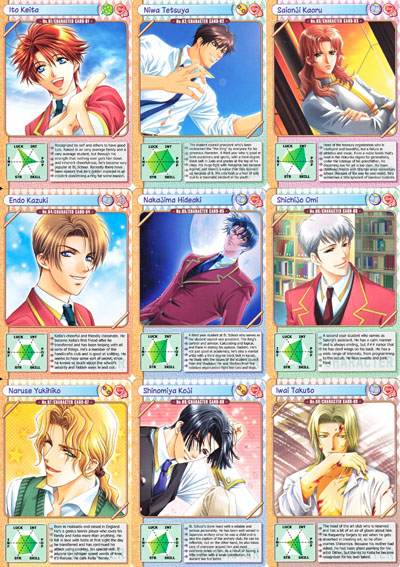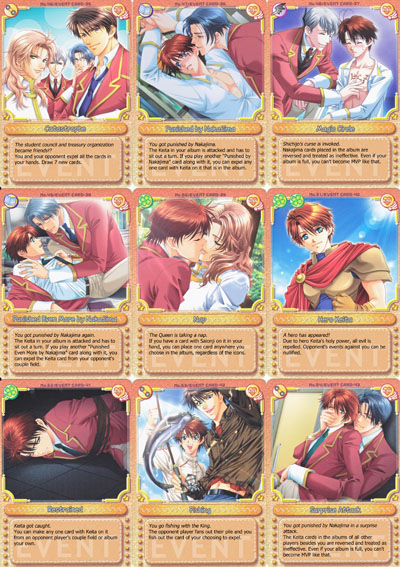 The translation is offered as a PDF download via Google Drive. This PDF package includes:
an intro and translation/editing notes
translated and reorganized instructions
a 100% complete set of translated cards, including secret rares, box cards, and the mail-in card
a set of card backs (to put on the backs of your cards, if you like)
the play mat needed for playing the game
download: Gakuen Heaven TCG - English print-and-play version
Simply print the PDF at 100% scale, preferably on heavy paper and with a color laser printer, and you're ready to go! Note that you will probably want to print some extra copies of the Keita character cards, as one is not enough to make a balanced deck.
Please note that the PDF is formatted for US letter paper (8.5 x 11 inches), BUT the margins are large enough that it can still be printed at 100% on A4 size paper without cutting off the card images. I believe the only thing that might be affected is the play mat, but that's nowhere near as critical as the actual cards!
Also note that the rules for this game are pretty vague, and we're not TCG experts so we couldn't really fill in the gaps. Still, it's pretty simple and easy to learn, plus it's fun to play too!